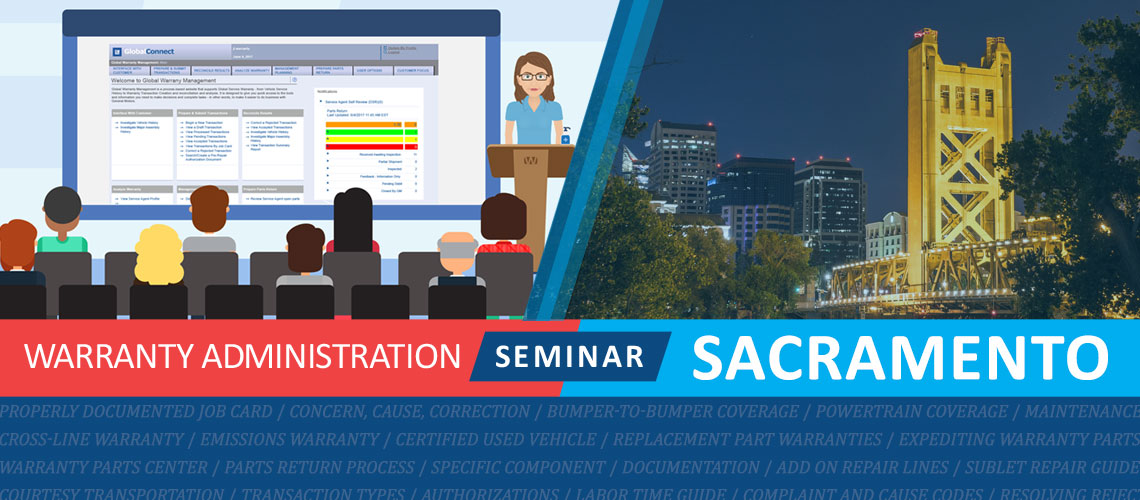 SOLD OUT!
Receive notification if an opening becomes available. When possible, additional day(s) may be added.
JOIN WAIT LIST
Seminar Overview
GM Dealer Equipment and jlwarranty are bringing a Warranty Seminar to the
Sacramento, CA,

area on

11/16/2021

.

Learn fundamental warranty processes and the importance of policy and procedure. The seminar creates an excellent environment for attendees to network with other warranty professionals from around the nation and learn from the best in the industry. Our trainers are seasoned professionals that know your job, know warranty, and just as important, know service department operations.
Topics Covered
Properly Documented Job Card
Concern, Cause, Correction
Bumper-to-Bumper Coverage
Powertrain Coverage
Maintenance
Cross-line Warranty
Emissions Warranty
Certified Used Vehicle
Replacement Part Warranties
Expediting Warranty Parts
Warranty Parts Center Parts Return Process
Specific Component Documentation
Add On Repair Lines
Sublet Repair Guidelines
Courtesy Transportation
Transaction Types
Authorization
Labor Time Guide
Complaint and Cause Codes
Resolving Rejected Transaction
Paint Claims
Transportation Claims
Meet the Trainer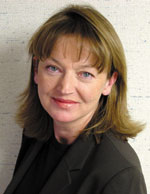 Chris Sanders has been a lead trainer of our nationwide warranty seminars since 2000. She knows the frustrations dealership personnel encounter in day-to-day warranty situations and is determined to help!
Frequently Asked Questions
Pricing:
$495

Per Attendee
1-day price: $495 for each attendee, conveniently billed to your dealer account (late registration within 2 weeks of class is $545). Included in the price is lunch, a comprehensive manual and a complimentary issue of our warranty newsletter. Lodging, other meals, and travel not included. Please submit payment prior to attending.
98.5% of attendees feel that the seminar was worth the investment and would recommend it to others!
How To Register
Registration is closed! This workshop is sold out, sorry.
JOIN WAIT LIST
Take a look at our alternate training solutions:
In-dealership Warranty Training - Customized to meet your needs, at your dealership, and at your convenience.
Warranty Administration Program - This program takes important warranty information, combines it with our warranty claims processing experience and summarizes it into to-the-point, easy-to-understand, readily accessible newsletters, training videos, interactive forums, publications, quick look-up tools, and so much more!
Online Warranty Training Videos (Included with a subscription to the Warranty Administration Program) - Learn online at your own pace with to-the-point, practical warranty training videos.
Agenda (Tentative)
| Timeframe | Topic Covered |
| --- | --- |
| 8:30 - 8:45 | Introduction |
| 8:45 - 9:30 | Common Chargebacks, Required Operating Procedures |
| 9:30 – 10:00 | Authorization and Approval Requirements |
| 10:00 – 11:30 | Service Advisor and Technician Requirements |
| 11:30 – 12:00 | Warranty Coverage and the Labor Time Guide |
| 12:00 – 1:00 | Lunch |
| 1:00 – 2:30 | Specific Warranty Policies and Programs |
| 2:30 - 3:30 | Authorization Codes and Dealership Empowerment (with examples) |
| 3:30 – 4:00 | Paint and Transportation Claims |
| 4:00 – 4:30 | Questions and Comments |
Customer Reviews
We've undergone some large changes at our dealership, and this was just the training I needed at just the right time. A wealth of information, immaculately presented and organized, ongoing support, and an online resource for just about everything we could need to know. And great folks on the other end of the phone when we can't find what we need. The total package! Thanks for providing such a wonderful experience for me and helping me, my team, and my dealership!!
I was hesitant to come to the seminar, I don't "Do" warranty - I found the class to be very informative, easy to follow and the training manual is excellent! Can't wait to read through it. Chris, I love your presentation, thanks for making a potential boring topic FUN!
The class was well-executed and provided real world information I can bring back and apply to my dealership. The information I learned will help me communicate with my warranty administrator. Thanks for a great class!
Even though I've been in this business for 37 years, I learned a lot of new information today!
We were able to go back to the dealership and claim an additional $600 of warranty revenue that we didn't know we could claim until we attended.
I was most impressed with how up to date the workshop was, and that I was able to ask questions and get answers right away.
The workshops teach you not to leave any money on the table, and not to take any money that isn't yours.
The class paid for itself in warranty revenue I was able to go back and claim.
I was delighted, it was one of the best classes I have ever been too. The format was amazing, there was information for the novice and the seasoned Warranty Administrator.
I've attended jlwarranty Workshops for the last 6 years and everytime I take something away from it that pays for the class.
After attending the workshop I was able to go back and claim approximately $2800 in additional warranty dollars, I would recommend the class to anyone!
Great information I feel more confident in doing my warranty.
Great class-reminds and teaches you of the warranty process. Reinforced my understanding of GM guidelines.
I love everything about the class, it's my 3rd one in 6 years in warranty and I always walk away with knowing something new.
Always a great refresher course!
Thanks for keeping a not so exciting subject interesting!
No changes needed to the workshop, the instructor is knowledgeable and helpful.
Chris is always informative. I have always learned something new. GM should make this a required course. Maybe some VOD's if dealers can't make it to class. But you learn so much when you are in the class. Two days would rock!
I always seem to learn something new. Chris always gives a great presentation, and very informative. Been going to this for last 3 years and will continue to keep going.
We have picked up enough things to more than pay for the class, great job as usual.
Very exciting to learn so many new things, I had no idea all the net items that we are able to claim!
Third jlwarranty Workshop in the last 5 years, the workshop if very thorough and is a great tool for updates, changes and clarifying warranty.
The Warranty Administration binder has a ton of information right at your fingertips, no more digging for information. The members area online has lots of tools that I will be taking advantage of namely the warranty hotline. I have attended one of jlwarranty's workshops and was very pleased, it was a great way to get together with other Warranty Administrators. The day the February newsletter arrived I had a claim rejecting for campaign 10332, after reading the newsletter I was able to get the claim paid right away.