Order Online Today or Call Us At
989.662.1000
jlwarranty offers a complete selection of "just what you need" products and services.
Purchase - $45
About

the Warranty Recall SUmmary
You'll appreciate how easy it is to access labor operations and labor times with this quick summary of vehicle recalls. The Recall Summary contains each recall number in numerical order starting with the most current.
The Recall Summary Contains:
Each recall in numerical order
A description of the recall
The repair performed
The expiration date, if applicable
The correct labor operation
The correct labor time
Applicable Net items and add conditions
Complete listing of special policies
Example:
Recall
Description
Labor Op
Labor Time
15-2-59
ELECTRONIC PARK BRAKE DRAG
Reprogram Electronic Parking Brake Control Module with SPS
9101415
0.3
Please review the actual recall for complete details
Online Quick Look-Up Version
Access the Recall Summary data online with a quick look-up tool. Input a recall number or descriptive keyword to view summarized recall information; such as the description, labor time, and the expiration, if applicable. Updates are available instantly.
Up-to-date information
Search by Recall Number
Search by Keyword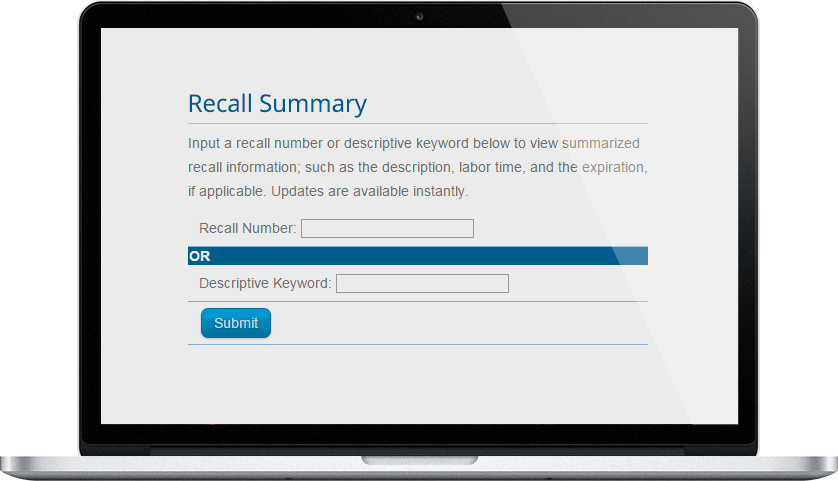 I especially like the recall quick reference - There are so many out there, it is hard to keep up.
I really liked the "Quick Reference" - no time to look up every little thing. A warranty administrator's day is busy enough as it is. Thanks!!
I use my Recall Summary every day and keep it within arm's reach. It saves me so much time, thanks.
Recall Summary is great to have, I give copies to our service advisors to keep them up to date on recalls as well.
Recalls can always be tricky, the summary was very helpful.
The Recall Summary is great - a real time saver, it's definitely a quicker way to find a recall & brief description.
Remember: One mistake made because an employee didn't have the information contained in the Recall Summary can cost hundreds of times the price of a single copy. Don't be caught short, order copies for your entire department today. Or, become a member of the Warranty Administration Program to receive the printed publication, immediate access to the online quick look-up version, as well as all future updates.
$
45
Each + Shipping
You May Also Like These Warranty Solutions: