Wiring Repair Labor Operations
Wiring Repair Labor Operations: Wiring repairs require unique and specific labor operations. When one of the operations is selected for a repair performed by a technician additional data is required when submitting the transaction. The additional information may include the following:
The Harness Routing View Document ID Number from SI
The Grid Location From the Routing View Document found in SI
The Connector End View Document ID Number from SI
The Harness Routing View Document ID and Grid Location are necessary when wiring repairs are performed. The Connector End View Document ID is necessary when performing terminal/connector repairs.
The technician is responsible for following diagnostics as found in SI when preforming a wiring repair and noting the Document ID number and/or grid location on the shop copy of the job card. Additionally, the technician must indicate his/her observations on what the cause of the condition was and what repair was performed to correct the issue.
When one of the electrical labor operations is selected for a repair, an additional required field will appear in the labor dependency field of Global Warranty Management for entry of the required information.
The following wiring repair labor operations require additional information with claim submission.
Terminal Replacement - 5430840
Connector Kit Replacement - 5430860
Connector with Leads Assembly Replacement - 5430880
Wire to Wire Repair - 5430902
Connector Reconnection - 5430922
Harness Replacement - 5430940
Ground Connection Repair - 5430962
Body Ground Stud or Nut Repair or Replacement - 5430010
Recently updated bulletin 10-00-89-005F contains the required additional information for these operations. The bulletin was updated to include the 2017 model year.
© jlwarranty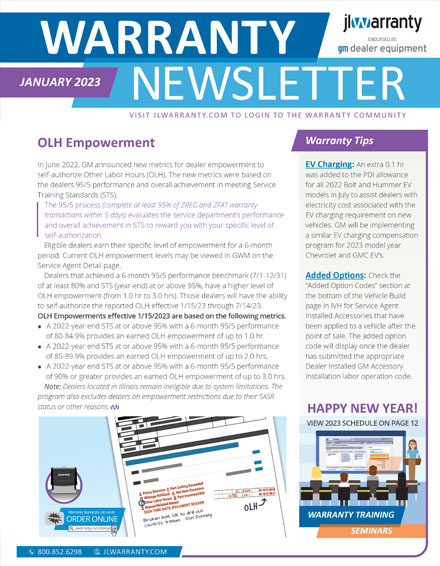 The most updated warranty information available is delivered to your door and/or inbox each month. jlwarranty summarizes important warranty information from General Motors, combines it with our warranty claims processing experience, and puts it into easy-to-understand articles. Find answers to the latest, most pressing GM warranty topics, strategies to increase warranty reimbursements, tips on protecting your dealership from debits and more! Only available with a monthly subscription to the Warranty Administration Program.
Learn more
Free Trial