Error 919
Error 919: Vehicle Evaluation Criteria is not compatible with this labor code X: This error code presented itself on a maintenance program service for a 2013 Chevrolet Silverado. The dealership submitted the labor operation for an oil change, tire rotation, and MPVI for the 2- year Chevrolet Maintenance Program. The program allowed four service visits with a reimbursement of $35.
After investigating the error, job card and IVH, the dealer noticed that the vehicle carried the Business Maintenance Plan vs. the 2-year program. Review of IVH also noted that the vehicle had a diesel engine, which carries a specific operation, different from the dexos operation for a vehicle equipped with a gasoline engine.
The claim was resubmitted with the appropriate diesel engine operation for the Business Maintenance Program, which allows 6 service visits, and paid successfully.
Best Practice: Review IVH or the Consultant Dashboard at time of service write up to ensure that the appropriate maintenance program is performed and subsequently claimed. Additionally, confirm the number of service visits that have already been claimed in conjunction with the number of total visits the vehicle is eligible for, again, at time of write up.
© jlwarranty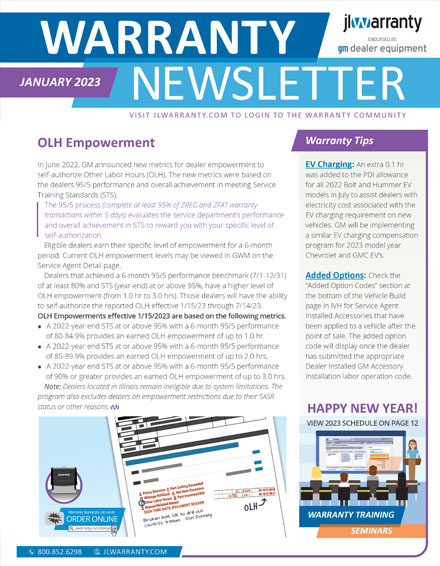 The most updated warranty information available is delivered to your door and/or inbox each month. jlwarranty summarizes important warranty information from General Motors, combines it with our warranty claims processing experience, and puts it into easy-to-understand articles. Find answers to the latest, most pressing GM warranty topics, strategies to increase warranty reimbursements, tips on protecting your dealership from debits and more! Only available with a monthly subscription to the Warranty Administration Program.
Learn more
Try a 1 Month Trial