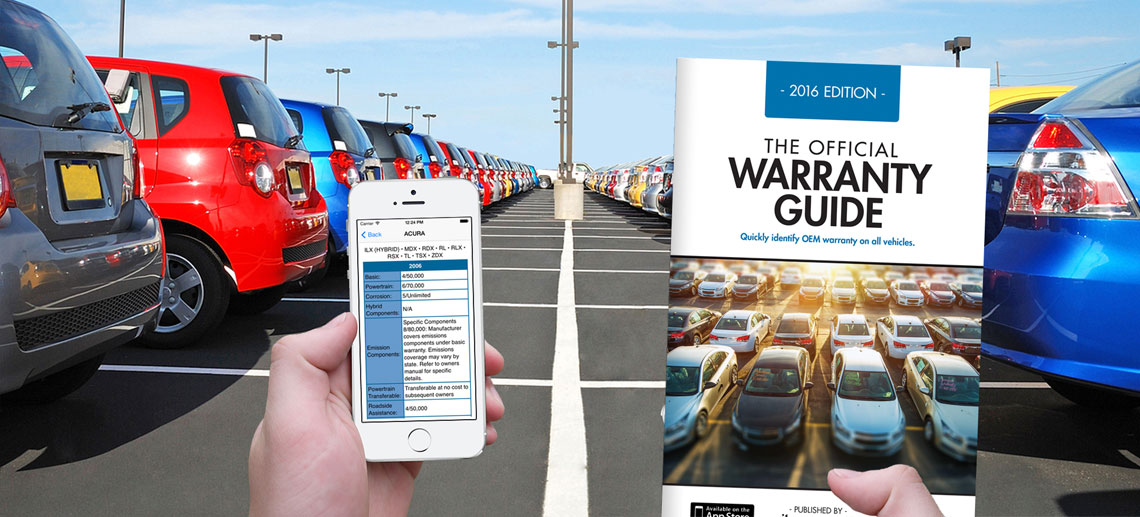 The Official Warranty Guide® is published to help you quickly determine any remaining OEM warranty on every vehicle by each OEM. Even used vehicles and trade-ins may still be covered by the remaining portion of an OEM warranty. Once you know that a vehicle has remaining OEM warranty, you can use this information to your advantage in a variety of ways. A few examples follow. Don't be limited by these examples. Many customers have told us of unique ways that they use the guide to help them in their business.
1.) Stop paying claims that are covered under OEM warranty
2.) Appraise used vehicles with greater confidence and make good buying decisions
3.) Get OEM defects repaired under warranty
4.) Label window stickers properly
5.) Let the OEM pay for emissions component, and powertrain repairs, even after basic warranties have expired
6.) Use the fact that an OEM warranty exists to help sell used vehicles
7.) Information on warranty transfer

1. Stop paying claims that are covered under OEM warranty
Even after the basic OEM warranty has expired, a quick look at the guide will show you certain repairs that are still covered. For example, a 2015 Mitsubishi Galant has a basic warranty of 5 years/60,000 miles, but drivetrain repairs are covered for 10 years/100,000 miles. This type of information in the guide will help you to make sure the OEM pays for repairs still covered by OEM warranty. [Back to top]
2. Appraise used vehicles with greater confidence and make good buying decisions
If, for example, a used car buyer finds the automatic transmission is slipping badly on a 2011 Subaru Outback with 58,000 miles, he/she should check The Official Warranty Guide. The guide will tell them that the transmission is covered by Subaru for 5 years/60,000 miles. A competitor who doesn't have the guide might not know the transmission is still covered. The used car buyer who uses The Official Warranty Guide has the information needed to make the deals that competitors might miss. [Back to top]
3. Get OEM defects repaired under warranty
Even independent used car dealerships can get OEM defects repaired under warranty. They must take it to a franchise repair facility and provide proof that the vehicle has a valid warranty.
Check every section of the guide that addresses the repairs that you need to determine whether they are still covered by the OEM warranty. Dealers also have a way to verify warranty eligibility by running a VIN through their OEM communications computer.
Check the VIN to see if there are any campaigns open on the vehicle. Review vehicles for OEM campaigns, or warranty extensions that are available for repair at "no charge." Some of these are listed in the "Warranty Extensions" section of the guide.
If you're an independent repair facility, there is nothing worse than losing a customer because they later found the work they paid you for would have been covered if performed at a franchised facility.
If this ever happens, explain the mistake to the customer and have them take their original receipts to a franchised dealer (where they purchased the vehicle, if possible). The dealership has the ability to reimburse the customer at OEM rates. You may want to absorb any difference to save the customer. [Back to top]
4. Label those window stickers properly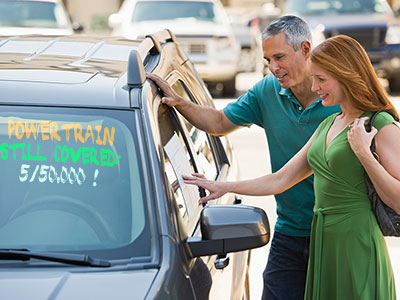 Check your used car stock for "Buyer's Guide" window stickers on late model vehicles that are checked "no warranty." In many cases, at least some portion (emissions, corrosion) of the OEM's warranty remains. Check the guide to determine what balance of the warranty applies.
Used car retailers must attach a "Buyer's Guide" sticker to a vehicle in a way that both front and back are visible. The sticker includes warranty information and reminds the shopper to ask the dealer whether an inspection by an independent technician is allowed. The sticker also warns consumers to get dealer promises in writing.
The balance of an OEM's warranty included in the purchase price is considered a "warranty" for buyer's guide purposes. Under the "systems covered/duration" section include this disclosure: "OEM's warranty still applies. The OEM's original warranty has not expired on the vehicle. Consult the OEM's warranty booklet for details as to warranty coverage, service location, etc." Where there is an additional cost to transfer an OEM's warranty, check the "service contract available" box.
Pursuant to specific provisions of Federal law, a buyer's guide is actually considered a part of the contract and its terms are incorporated by reference. There is even a required notation on the face of the contract to this effect. A customer should receive a signed copy and it should be physically attached to the original copy of the contract when it is assigned to a financial institution. This would literally insure that the financial institution, as the holder of the contract, has a full and complete copy of the written contractual agreement. [Back to top]
5. Let the OEM pay for emissions component repairs, even after basic warranties have expired
Keep in mind that all vehicles sold in the United States are covered with an emissions warranty. Certain emission items like spark plugs or PCV valves, however, are only covered under warranty up to the first suggested maintenance replacement interval if no OEM defect is involved. Failing a test may entitle the owner to free repairs under the emissions performance warranty. [Back to top]
6. Use the fact that an OEM warranty exists to help sell used vehicles
A vehicle that still has remaining OEM warranty is worth more to buyers. Explain the advantages to the customer of having the remaining OEM coverage. Knowing and explaining the warranty to the customer will help to avoid any misrepresentations, minimize the chances that you will need to make an out-of-pocket policy adjustment, and may prevent a costly lawsuit. [Back to top]
7. Information On Warranty Transfer
The procedure to transfer a warranty is easy. However, it should be done immediately. Some OEMs limit the days from purchase date to submit for warranty transfer.
When a warranty transfer fee is required - look for a transfer card in the back of the warranty book. Complete the card and mail along with the dollar fee amount to the OEM's warranty address. Put the VIN on the check. The transfer should be acknowledged within three weeks. If there is no transfer card available, send the appropriate transfer fee with the following information; Name, Address, City, State, Zip, Vehicle ID#, Social Security #, Date of Purchase, and Current miles on the odometer.
When no warranty transfer fee is required - you should inform the OEM anyway. This will allow the OEM to contact you immediately if a safety recall is needed on your specific vehicle. As a new owner, you should write the OEM with the information outlined in the prior paragraph. Calling the customer assistance number given in this guide may also be an option. [Back to top]

The Official Warranty Guide details OEM's warranty guidelines, deductibles, warranty extensions, and other pertinent warranty information. Learn More
JOIN OUR EMAIL LIST FOR FUTURE UPDATES
Receive email updates regarding the Official Warranty Guide. Updates include; new edition releases, important changes to content, electronic data availability, and current promotions.
Subscribe